Church, there is something wrong with us if the most gifted people are leaving in order to make it to the top!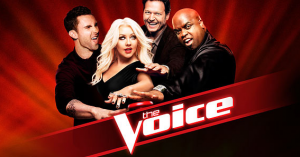 We love The Voice in the Huff family, but watching the first show in the third season tonight only took three performances to bring back a righteous indignation of what I felt last season.  Let me say it again: Church, there is something wrong with us if the most gifted people are leaving in order to make it to the top!
Those who know me, know that I am more about the churches sending capacity than the seating capacity, but these artists are not being sent.  They are not going to the ends of the earth as scripture challenges us to do in order to bring glory and awe to God, they are just simply going.
This is truly backwards from the very desire and prayer of Jesus, who in his last cries to God pleaded that we go into the world in order to make His joy complete.  But the church is making people chose the world or the church and this is where we have failed.  It should be "the world and the church"!
I know you are all set on your little kid dressed up like a sheep in a manger this Christmas, but if Taylor Swift, Justin Beiber and Katie Perry want to sing Christmas songs and let me close it with the message of Jesus birth this Christmas I believe we will be more in line with what Jesus was intending of His Church!  Your little sheep can be a cute prop behind their amazing artistry, and greater reach and glory will come to Jesus.
We must begin to celebrate creativity and innovation in the arts.  We serve the creator and should of all places be drawing in the best of the best to have the ultimate stage before the ultimate audience, God!  The church should be the ultimate place for creative juices to flow and then be released to all the world, not just within an industry or subculture, but setting the stage for what can be in the music world, drama, film and beyond.
Give me a couple years Blake, Cee Lo, Adam and Christina and we will send you some talent that is gifted by God to shine before the world.  Not leaving the church, but supported and sent by the church to light up the world.  Not ashamed of the gospel, but filled with the gospel bringing relevance to this message and relationship with Jesus once again.  And while we are at it we will toss some talent your way Howie, Sharon and Howard, because America does have talent…it's being created in the hearts of man as a gift from God right now to inspire the world and point to Heaven and we are going to stir it up right here in Bonney Lake, Wa.
Ain't no more talent being kicked to curb on my watch.  Want some love, some embrace, someone who will appreciate your talent and fan it into flame?  Come check out Open Life in Bonney Lake.  Seriously…enough is enough!