Nothing like traveling for 3 days of your life.  That pretty much sums up our experience thus far.  We left our home just after 10pm on Sunday and arrived at the Taylor's beautiful home in Surabaya at 12:30am on Wednesday.  We only traveled for 36 hours of that.  Confusing huh?  Well that is what our bodies think as well.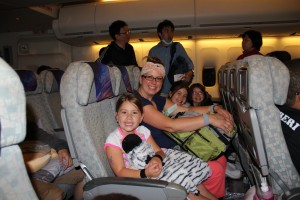 You can track some of our photos on my Instagram as we have wifi I will post the iphone versions of what is happening.
Fun notes from day one included:
The first 12hour flight was a piece of cake.  We were worried about that one the most, but it actually went quick.  (The landing was another story as we came down into a very powerful lightning storm.  You could see it out of the windows and when we landed it was loud booms and crackles.  That got the girls a bit scared and nervous)
The lay over in Taipei took more out of us than we thought.  We didn't know where to look for food, so we found ourselves eating some muffins and hydrating a bit. We were tired, so we found some seats and crashed.  After that we found the more restful space on the 4th floor of the airport and enjoyed ourselves a bit more as Preston and Jaiden were a big hit with the locals.  Their waving, dancing and interactions were photo material for those passing by. We moved around every couple hours of the 13 we were there to help pass time and the play areas in the mall portions of the airport were perfect.
The storm was so severe that many flights were being delayed and cancelled so we were almost positive our trip was going to become a lot longer than we desired, but somehow by the grace of God our flight was the first one on time out of the hour or two preceding it.
We made is safely into Surabaya, Indonesia on time, but Dana and I had slept so deeply on the flight that we didn't even have our immigration forms completed.  The culture showed itself as the plane came to a stop.  All of those on board shoved their way to the front of the exit of the plane.  It's a cultural thing to shove and cut in line we were told, so we were supposed to just shove back and say "permisi".  Well, we didn't do that…we kindly let those go before us that were in such a hurry and exited the plane last.  But they thought everyone had gone by the time we reached the exit door and found ourselves locked in a hallway for a bit.  The Indonesian authorities figured out how to get us out of there and on our way but it was kind of funny.
When exiting they didn't give us a bad time at all about why we were here or what was in our luggage.  Sometimes they do for westerners, but we had much grace there.  We made our way outside to a mob of people from Surabaya.  It looked like a crazy crowd waiting for Justin Beiber to exit the plane, so they must have been bummed to see us!  LOL
The car ride from our very hospitable hosts was quick and easy.  We were tired and crashed without even taking the time to figure out the wifi to tell people we made it.
We slept good and woke up ready to get the day started with sermon planning team meeting and Dana headed out to do some shopping for food.  We saw the church and had some really good food.  The girls said we need to eat there often because they love noodles.
In the church we saw a wall where they have 100 photo frames and the first 28 have pictures of their completed churches.  I posted an image of #29 on my Instagram…we will be building this one in 3 weeks.  And have a place on the wall of vision.
Well…going to hang with the family today and get an early night to bed before hitting the ministry roles tomorrow.
#indo13