Humbled to say the least at receiving the 2013 Community Leadership Award from the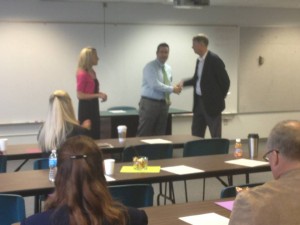 Sumner School District (SSD) at the Washington Association of School Administrators (WASA) today in Fife. Some more than kind words were said by Superintendant, Craig Spencer, and Principal of Liberty Ridge Elementary (LRE), Laurie Dent, reflecting on Open Life's impact through Big Give, Love Week, and our ongoing generosity towards the vision and needs at LRE and within the community as a whole.  More is noted by the local online news source Patch.
The Director of the SSD STARR project and the Communities For Families Coalition, Marilee Hill-Anderson shared some grateful words for my investment in all that has been done for families within our the SSD as well as the potential impact Open Life can continue to have as we pursue future projects together within the community. (She gets the photo credit)
All that to say this; I feel like we are just getting started…by living out the values of being generous and present with our community for the past three years as the founder and pastor of Open Life within our city we have already been honored on multiple occasions for our impact within community. ONLY THREE YEARS SO FAR.  I can't imagine as more of us engage the vision and mission of Open Life (connecting, serving, sharing), prospering our city and each community we pour ourselves into within the future as we multiply. It amazes me at the potential to shock our region with the heart of Jesus, just how valuable can the church be to a community? HUGE…and all the glory goes to God!
IMAGINE WITH ME, what would it look like to multiply into the surrounding communities with the DNA that has surfaced through Open Life in Bonney Lake?  What is possible as we multiply through other pastors who are feeling the call to begin a church within their community and as they join the apprenticeship or residency of Open Life to reproduce the culture and mission that has been shaped here?
Our latest pursuit that is just in the thought phase; begin a GAP year program for students following High School and prior to their continued education, to clarify their calling, learn how to be an integral part of society as the main mission of Jesus in their life.  Teach them how to be generous and present with a community through hands on experience with our amazing partnerships in the city, in the school districts, professional community and more. Sending these leaders on mission back into their respective communities across our country. We are just beginning this venture and setting our sights on a potential launch in fall of 2014, Lord willing.   HUGE
Imagine by 2020 having 18 Open Life churches in 18 different communities making the same impact we have made in just three years.  I think we could change the world!  It's all about reproducing the grace, favor and mindset we have currently that has allowed such moments of honor within the gates of our city as today.  I can't wait to see future communities blessed with the blessing we are able to pour out here in Bonney Lake.
Who knew starting a church would be so fun!