We are just 22 days 19 hours 13 minutes and 10 seconds from the Open Life Easter Experience, "One Day to Change the World."  Here is the opportunity before each one of us, Easter is the one time a year people are most open to considering what Jesus was all about. Unless they are invited, 80,000 people (88% of our community) will consider Jesus without going to a church to actually discover the power of His love for them demonstrated in His sacrifice on the cross and hope through the resurrection.  These are your neighbors, family and friends.  This should break our hearts, but as well, fill us with expectation for opportunities like Easter.
What would it look like if each of us at Open Life would invite our friends, family and neighbors who are not yet following Jesus?  What if they made a decision to come and choose to follow Jesus this Easter?  Think of the impact on their future, family and enjoyment in life itself, literally changing the course of their world, family and destiny in one day.
The leadership team at Open Life has been praying and preparing for this very dream as we approach this Sunday, April 8th at 10am.  Our goal is to double the amount of people Open Life reaches with the gospel this Easter. Here is how:
EASTER SUNDAY
April 8th – 2012 Easter experience, "One Day to Change the World".  Kids will enjoy games, prizes and an egg hunt of their own while you enjoy the most inspiring 70 minutes of your year designed especially for your guests and you of course!
March 18th we will begin introducing the idea of taking a special Easter offering to go to Charity Water, our newest Strategic Partner (providing clean drinking water to the 1 billion people without it in the developing world). Everything that is not designated tithe will go to Charity Water during our normal offering time.  This offering will be above and beyond your regular giving.  Even the kids will hear this idea and receive an offering on Easter morning.  People coming to church always thing we want one thing from them, their money.  But something special happens when they realize we want to give it away!  Every stereotype is broken in that one act of compassion.
THE INVITATIONS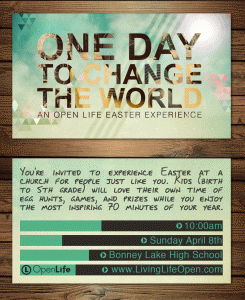 Invitations: Statistics clearly indicate that 60%-70% of first time guests on Easter are the result of personal invitation; therefore, we have invested once again on invite cards that are clear, informative and portable.  They are easy for you to bring with you as you go throughout your week to hand to those you interact with.  By giving this card to those you invite Open Life will be that place people hear about Jesus. Our goal is for every person to invite at least 10 people to the Open Life Easter Experience.
Direct Mailer: We have made your invitation gain traction by sending a direct mailer to 5,000 residents in the radius around Bonney Lake High School going out the week of March 25th.  If you invite someone within this area chances are they will see another invite, which will assist your efforts of reaching your friends, family and neighbors.
SERVING THE COMMUNITY
This year we will again serve the City of Bonney Lake as they hold their annual Easter Egg Hunt at Allen Yorke Park on April 7th.  We will help put out the eggs and hand out invites to the Open Life Easter Experience to every person in attendance attached to candy.  This results every year in Open Life being a blessing to our city and families make their way to our Easter service and hear about Jesus due to the invite.
Easter 2012 is going to be the beginning of something extraordinary in someone's life that you will invite.  Over the next three weeks we will be praying with you and resourcing you to multiply your reach this Easter.
See you this Sunday!
Thad