Sitting at starbucks, finalizing my message for Jake's House in Arlington tomorrow.  The observations get me to thinking…Life is done in the open!
Taking a look in the parking lot as I pulled up I saw there was a lot happening…many people have gathered at this watering hole called Starbucks, and on the inside you have a few scenarios.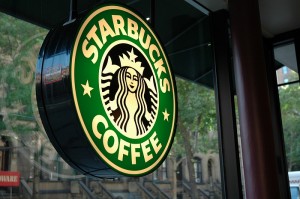 A father and daughter
The newspaper couple
The ladies in the soft chairs
The fire fighters and law enforcement
The husband and wife having coffee
Those who are trying to beat the pace of the drive thru
Oh yeah…and the guy on his laptop preparing a sermon for Jakes House (me)
So many life stories represented and being lived in the open, for all to interpret and observe.  Gets me thinking…do we live life open enough for others to see an example that demands a gospel explanation?  How about this…do we engage in life with others we engage in the faith with?  When was the last time you spent time, just hanging with those you go to church with?  Does your church foster these moments in the lives of those who call it their home, or does the schedule prohibit these moments due to business.
The father and daughter inspire me, very cool to see them determined to connect in a fast pace world.  Slowing down in order to keep the lines of communication open.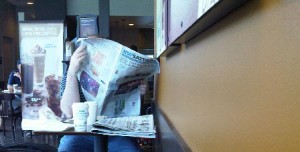 Can't say the same for the newspaper couple.  Honestly this is the farthest from my ability to connect with.  They are reading together and spending time together…cool, but they are not engaged with each other.  It is just funny to me (although I am all about the fact that they are at Starbucks).
The ladies in the soft chairs exist in any Starbucks that has the chairs.  Discussing life, connecting about their week and planning.  Most of the time, if you listen in (which I do), they are just planning life.  Nothing on an agenda…just doing life together.
The fire fighters and law enforcement are discussing community and life.  It is amazing to see people who work together desire to hang out together outside of their work.  Isn't that the way it should be?  That we not just say hello at work and walk away until next week.  I long to do life like this, and give serious effort to it as well!
The husband and wife having coffee are totally engaged in conversation.  They are smiling and enjoying a moment across a table looking each other in the eyes and learning more and more that they value and appreciate.  Love it.
Then there are the drive-thru busters.  They come in, get their drink and then they are out to their car.  Really there are two different people  in this line of about 10 at the counter.  There are the people who would rather come in and connect with people face to face and there are the people who truly believe coming in is faster than the drive-thru.  I personally come in so that I can be face to face with people.  I love knowing names and getting faces vs. a voice through a machine.  And I want to live life in such a way that they will remember me, connect, so we can someday engage on a deeper life way.  I think those who are trying to go faster and more furious than those through the drive-thru are more like the traditional church attendee.  They come through the doors, grab their product, but what did they really gain in life through that experience?
Must I evaluate the guy in the corner on his laptop?  OK, if I must.  This crazy pastor on his laptop so values knowing where people are at in life, that he would rather prepare his sermons in public places rather than sit in an office where there is no life distractions.  I love truly being amongst those I am called to, verses guessing or using statistics alone.  I must connect faces to statistics and challenge their accuracy through actuality.
Who would you most relate to?   How much do you value doing life together with those you work with or go to church with?  Are you willing to sit down and become a part of doing life out in the open for all to see an example that demands a gospel explanation, or will you be in a rush, missing true authentic community?
All that…by just coming to Starbucks…love it.